Old Fort resident takes home $1 million scratch card jackpot
05-03-2015
Scratch cards can be extremely rewarding as they offer players the chance to win staggering cash prizes. A gambling enthusiast from Old Fort (North Carolina) can bear witness to that fact after
winning $1 million in cash
courtesy of a scratcher.
Generous scratch card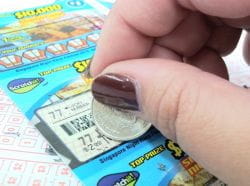 Jack Piercy purchased the lucky ticket at a Morganton-based convenience store, according to a spokesperson for the North Carolina Lottery. The ex-locomotive engineer was obviously a little shocked when he discovered that he had won the
life-changing scratch-off jackpot
. "Let's crack open the champagne", Piercy said.
Fresh millionaires
The pensioner then informed his spouse about the staggering win. "Honey, we are millionaires", he told his wife. Piercy noted that they have no immediate plans for the windfall, as the
impact of the life-changing event is still sinking in
. The spokesperson added that the $1,000,000 jackpot game yet features two other staggering jackpots.