New Yorker cashes $5 million thanks to winning scratcher
16-07-2014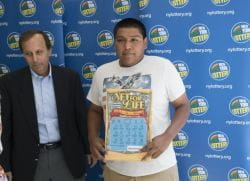 Everybody likes birthday presents, but nothing beats the sensation of a life-changing cash prize. A man from Harlem, New York can bear witness to that fact. Fili Rodriguez won a
$5 million jackpot
a few days before he turned 22.
Unexpected windfall
Rodriguez chose to have his prize paid out as a one-time cash option worth $2,468,752. After collecting the check for his
staggering lottery jackpot
, the 22-year-old went home in a limousine. "Nobody actually expects to win a prize of this magnitude, but it shows that miracles can happen", Rodriguez noted.
Mexican roots
The New York resident bought the 'Set for Life' tickets after working out in Central Park. Rodriguez stopped at a supermarket to buy a soda, plus two lottery tickets. He plans to visit his
grandparents in México
, in addition to buying his own apartment. But for now Rodriguez wants to take some time to process the life-changing event.