New Yorker cashes $1.1 million thanks to Wheel of Fortune slot
20-04-2013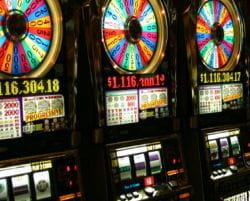 The Flamingo Las Vegas Casino has celebrated another millionaire after Rosemary Bulzoni took home
$1,140,129 in cash
. Bulzoni was spinning the reels of a Wheel of Fortune slot when she hit the life-changing windfall. The New York resident plans to buy a Jaguar, which matches her newfound wealth.
Persistence pays off
Bulzoni loves to spin the reels of the slot machines at the Flamingo. She visits the famous casino in Las Vegas twice a year, which she has been doing for two decades. Before winning this staggering jackpot, Bulzoni was never very successful when
playing the Wheel of Fortune slot
machines. Now her persistence has resulted in a $1,140,129 jackpot.
$1,452,799 jackpot
A Wizard of Oz slot machine produced another millionaire less than two months ago at the same gambling resort. The lucky gambler in question was playing the fairy-tale themed slot machine when he hit the jackpot worth a whopping $1,452,799, which shows how one spin can change somebody's life.