New Jersey Lottery celebrates $21M jackpot winners
22-07-2012
Two Holmdel Township residents have landed a jackpot worth a whopping
$21.5 million
. The couple took home the cash prize thanks to a winning Pick 6 ticket. Robert Talerico will keep his electrical contracting company. His spouse Amelia Talerico used to work as a school teacher.
Massive impact
The couple opted for a lump-sum payout and claimed their jackpot at the lottery office. They were accompanied by their daughter, family lawyer and bookkeeper. A New Jersey Lottery spokesperson declared that the jackpot will have a massive impact on their lives.
No plans to retire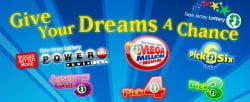 A representative of a legal company noted that the jackpot doesn't necessarily have to change their lives. "Robert and Amelia are a happy married couple and they will continue their normal lives. They first want to let things sink in and think what they will do with the money. Robert has no plans to retire," he said.
Draw games and instant titles
The New Jersey Lottery offers draw games including Power Ball, Mega Millions, Pick 6, Jersey Cash 5, Pick 4 and Pick 3. They recently added new instant games like Mad Money, Casino Cash and Crossword. The New Jersey Lottery donates 34.75% of its revenue to education and institutions. Check out our recent report on a self-employed contractor who cashed
$60 million thanks to a winning lottery ticket
.