Mystery $50 million jackpot winner finally found
05-12-2013
Kathryn Jones bagged a
$50 million lottery jackpot
without knowing it, in November 2012. The Ontario Lottery and Gaming Corp. has now traced the rightful owner of the windfall. Lottery officials went to her home to convince her she had hit a staggering cash prize.
$50 million ticket lost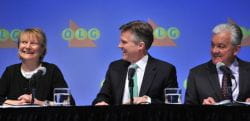 "We didn't know their intentions so at first we were a bit skeptical," the 55-year-old jackpot winner commented. Jones bought the winning ticket at a Cambridge-based store. However, she doesn't have a clue where she put the lucky ticket. "I have searched the entire house, and frankly I have no idea where I left the ticket," Jones added.
False claims
Lottery officials normally don't investigate
unclaimed jackpots
, but this time they did because of a fortunate coincidence. The lottery drawing on November 30, last year resulted in a $50 million prize. More than 430 fortune-hunters tried to collect the multimillion dollar jackpot, but all those claims were in vain.
Investigators unveil true winner
The Ontario Lottery and Gaming Corp. investigated all claims, resulting in signals that hinted at Jones as the potential winner. For that reason, they tried to verify if the 55-year-old Hamilton resident was the true winner. Investigators were able to determine when and where she bought the lucky ticket. CCTV footage confirmed the identity of the
rightful winner of the life-changing jackpot
.