Model employee receives $1 million Powerball check
08-10-2013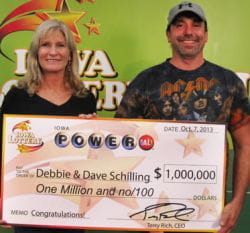 A Sheldon couple has become significantly richer thanks to a winning Powerball ticket. Dave and Debbie Schilling have received a
check for $1 million
from Iowa Lottery officials. Debbie proved to be a model employee as she first went to work before claiming their new fortune.
Responsible payroll clerk
"Payment of salaries is one of my key responsibilities so I had to go to work. People were expecting their salaries," said Debbie, who is employed at the payroll division of V.H. Manufacturing. The 52-year-old human resources clerk celebrated the jackpot with her partner Dave.
Rewarding Powerball drawing
Debbie purchased the lucky ticket at a local store. A spokesperson for the Iowa Lottery revealed that last Saturday's Powerball drawing awarded five $1 million prizes. He added that the top prize has soared to a
whopping $108 million
, which makes this Wednesday's drawing even more exciting.
Screaming of joy
Her children told her about a Sheldon resident who had won a $1 million
Powerball jackpot
. Debbie reacted rather calmly: "That's great news for our town. How nice would it be if we are the lucky winners?" At that moment she realized that she had bought a Powerball ticket. "I started hollering and my whole body was shaking," Debbie recalled the moment when she learned about the jackpot win.