Michigan couple hits second lottery jackpot in two years
11-11-2013
Everyone dreams of winning a massive jackpot from time to time, but two staggering lottery wins seems too good to be true. Nevertheless, Joseph Palmarchuk has won
$1.35 million in cash
courtesy of a Classic Lotto 47 ticket. In 2011, the retiree from Mecosta County, Michigan took home a $1 million lottery jackpot.
Lottery jackpot after moving to Mecosta County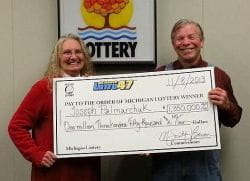 Two years ago, Palmarchuk and his wife wanted to live closer to their family. For that reason, the retired couple moved to Mecosta County. Only a few months later, the Palmarchuks won their first lottery jackpot. The
two life-changing windfalls
enable the couple to provide their big family with financial support.
There's more where that came from
Joseph believes that lightning will strike again in 2014, but it will not be another seven-figure win. "I'm a big lottery fan and I tend to purchase multiple tickets a week. One thing's for sure: you have to buy tickets in order to win a jackpot," the fortunate retiree noted. Additionally, Palmarchuk expects to hit a Mega Millions or
Powerball jackpot
within a period of three years.
Heading to a warmer state
The lucky couple will look for  an apartment in a state with good weather in order to escape the cold in Michigan. Their
seven children, 23 grandchildren and four great-grandchildren
will benefit from the lottery fortune. The Palmarchuks plan to enjoy their recreational vehicle, and Joseph will certainly continue to buy lottery tickets on a daily basis.