Megabucks slot spills out $12.5 million jackpot
25-03-2016
A gambling venue in Elko (Nevada) has celebrated a multimillion dollar jackpot winner. Meet Efren Aguirre, a local gambling enthusiast who
landed a $12.5 million cash prize
whilst spinning the reels of a Megabuck slot. Despite his newfound wealth, the 64-year-old gold miner isn't planning to quit his job.
$12.5 million rather than $1,200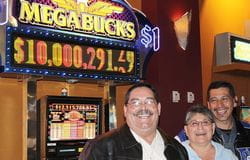 His seventh spin on the Megabuck slot turned out to be the lucky one as it netted him a stunning $12,515,708.83 in cash. Aguirre first thought that the
slot jackpot was the result of an error
and he asked a staff member why the reels had stopped spinning. The staff member told the gambler that he had won $1,200, but another employee confirmed that it was actually $12.5 million.
Rainy day funds
Aguirre's spouse Maria was spinning the reels of another slot when he struck oil. She thought that her husband couldn't handle the life-changing win, but Efren managed to control his feelings. Maria then informed their son about the
multimillion slot bonanza
, but he didn't believe it at first. She added that they don't have any extravagant plans for their winnings, except to put the money in the bank and invest wisely.