Mega Bucks slot spills out $3 million jackpot
05-08-2014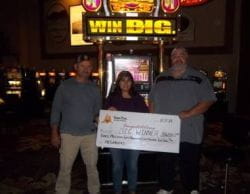 A gambler at the Twin Pine Casino & Hotel in Middletown, California has bagged a life-changing windfall. The fortunate player in question was spinning the reels of a Mega Bucks slot when he hit a
$3,060,857 jackpot
.
Home of the big jackpots
It is the second time that a
Mega Bucks slot
has spilled out a jackpot worth more than $1 million, according to a spokesperson for the casino. In late 2012, another fortunate slot player pocketed an $8.4 million prize thanks to a Mega Bucks machine. Three casino patrons bagged a jackpot of up to $8 million since 2009, in addition to three of up to $600,000.
Persistence pays off
The fortunate slot player from the East Bay visits the Middletown-based casino on a regular basis. He always believed that someday he would win big time, and his determination has finally paid off. The casino patron plans to use his winnings to pay for his
daughter's college education.