McMinnville resident hits $71,500 keno bonanza
17-07-2015
Saying that you can win massive cash prizes whilst playing keno, would be stating the obvious. A McMinnville resident proved that notion after scooping a
keno jackpot worth more than $71,500
. Paul Krutsch was enjoying the lottery-like game of chance with his friends when he struck oil.
Stark contrast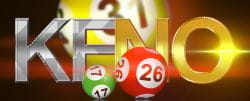 "One of my keno buddies always has
lady luck on his side
, and his biggest win was worth a dazzling $45,000. The rest of the gang tends to take home prizes up to $90, while I usually win a lousy 2 dollar", Krutsch commented after winning the keno windfall at the McMinnville American Legion.
Sleepless night
"My friends told me that I would hit the jackpot one day. Subsequently, all my numbers came up on the display. It was as if lady luck had picked up our conversation.
Absolutely remarkable!
We celebrated the staggering win, and I couldn't sleep that night due to all the excitement."
No more financial worries
Asked how he plans on spending the money, Krutsch without hesitation replied that he would use the cash for his retirement. "It will definitely make our lives a bit easier." His three children will also benefit from the
keno
jackpot.