Mays Landing office manager gets $1 million surprise
05-08-2013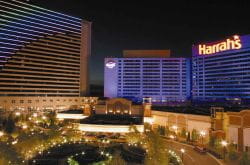 Harrah's Atlantic City Resort and Casino has awarded a
$1 million windfall
to a lucky competitor in the 'one million dollar giveaway' campaign. Donna Clopp from Mays Landing, New Jersey beat 19 other participants in the generous contest and took home the staggering cash prize.
Third $1 million prize
The one million dollar giveaway promotion treats one fortunate participant to a $1 million bonanza. Clopp follows in the footsteps of Patricia Sheik from Lakewood and Dorothy Muller from Cherry Hill, who previously became an instant millionaire thanks to the extremely rewarding contest.
Bad luck turned around
Harrah's is my favorite casino in
Atlantic City
for more than two decades, but this life-changing cash prize is unbelievable," the Mays Landing resident commented. "We have experienced a tough year, with two relatives who were involved in a car crash. I was hoping that bad luck would finally turn around, but a $1 million cash prize is definitely
beyond my wildest imagination
," Clopp added.