Man wins $1 million lottery prize at gas station
28-02-2013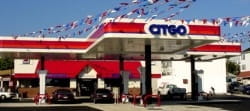 Larry Szpajer, a salesman from Illinois, has won an amazing $1 million at a gas station yesterday. He bought the winning ticket of the Powerball Lottery when he was trying a different route while working.
Citgo gas station receives bonus
Larry Szpajer stopped at a Citgo gas station and bought a $2 ticket of the Powerball Lottery. Citgo receives a bonus of $100.000 because they sold the winning ticket.
$217 million jackpot
The jackpot was really high, $217 million, so Szpajer decided he wanted to try his luck. The first five numbers of his ticket matched the drawing. Szpajer said he stared at the computer for hours with his wife Grace. They both could not believe it.
The couple want to pay off their debts and invest in their retirement. They also feel like travelling with the money. "We've always wanted to go to Australia," said Szpajer's wife.
Quick stops have brought luck before. Last week a man stopped to play on a slot, resulting in
winning $7 million after a friends funeral
.