Maitland resident hits $2.14 million keno windfall
11-12-2015
An Australian truck driver can finally trade in his hotel room for a house thanks to a winning keno ticket. The gambling fan from Maitland (New South Wales)
landed a $2.14 million jackpot
. It's already the tenth keno player who scooped a jackpot of at least $1 million this year.
From truck driver to multimillionaire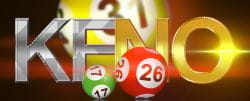 A spokesperson for the gambling company noted that the winner asked that his name be kept confidential. The 46-year-old truckie commented that he was in shock after winning the multimillion
keno
jackpot. He bought a 10-number ticket that turned out to be a life-changing purchase.
Life-changing event
"I got a call from a buddy who also lives at the Metropolitan Hotel. He told me that I had probably scooped a $2 million jackpot. I verified the numbers after all drawings had finished. I was in disbelief as it's such a
surrealistic feeling
", the fortunate keno player said.
Keno with progressive jackpot
The popularity of keno is also increasing online, and more and more internet casinos offer the lottery-like game of chance. Bonus Keno is a fine example of online keno fun, and features a progressive jackpot that continues to rise until someone gets lucky.
Royal Panda
is one of many online casinos that offer Bonus Keno, allowing players to take home staggering cash prizes.