Lunch break scratcher hits $7 million jackpot
24-12-2015
A man from Staten Island used his lunch break to buy two $25 lottery tickets, which was a gamble that paid off. Meet Rigoberto Mejia Mendoza, a new multimillionaire thanks to a
winning scratcher that hit a $7 million jackpot.
Hunt for big prizes
The 31-year-old man purchased both scratch-card tickets 3.5 weeks ago, whilst enjoying his lunch break. "I tend to purchase those tickets that hold the largest jackpots", the Staten Island resident commented after receiving the large oversized souvenir check for the
$7 million prize
.
Remarkable event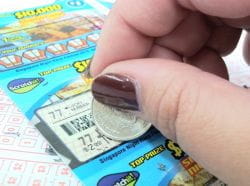 "After I had unveiled all numbers on the ticket, I noticed that one of the numbers had a match. I couldn't believe my eyes when I discovered that it was a
$7 million jackpot
. It was a surreal experience, but definitely one to remember", the 31-year-old gambling fan added.
In shock thanks to massive win
His spouse was the first one he told about the life-changing jackpot. The couple was in shock, and they need to come down from cloud nine before realizing what has happened. Mendoza intends to purchase a new house, which will be no problem after receiving nearly
$4 million in cash
after taxes.
Fun online scratchers
Scratch cards are hugely popular among gamblers from all over the world, with the same applying for the online equivalent.
Royal Panda
for example, offers four exciting scratchers, namely, Ace, Triple Wins, Lucky Double, and 7 Gold Scratch. If you're looking for a lottery-like game with a progressive jackpot, you may want to check out Bonus Keno.