Loyal casino player lands $129,601 slot jackpot
06-08-2015
The Table Mountain Casino in Friant (California) has celebrated another big winner. This time a Kerman resident left the gambling venue with a
whopping $129,601 in her pockets
. The fortunate player in question, identified only as Petra, was playing a Bally Cash Wheel machine when she struck oil.
Gambling and dining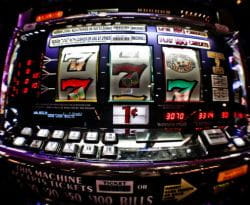 "I love to visit the Table Mountain Casino to enjoy the entertaining gambling repertoire.
Winning some cash is obviously another reason
", Petra commented after her stunning win. But the woman from Kerman also likes to have dinner at one of the restaurants inside the gambling establishment that is located near the city of Fresno.
Exciting gambling repertoire
"I'm just thrilled, words can't explain it", Petra said after receiving a symbolic check for the massive win. She is definitely a regular player at the Table Mountain Casino, which is one of the most popular gambling parlors in the region. Players can choose from a wealth of casino games, including:
More than 2,000 slot machines
40 table games
10 poker tables
An extensive bingo area with 700 seats