LottoMax jackpot worth more than $50 million
14-07-2015
Great news for Canadian lotto fans as the Ontario Lottery and Gaming Corporation has increased the LottoMax prize cap. A spokesperson confirmed that the jackpot can reach a
dazzling $60 million
due to the increment.
$85 million prize pot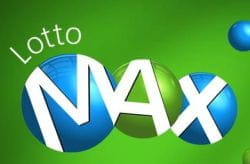 Last Friday's draw was packed with a
$50 million jackpot
, but nobody got lucky. For that reason, the drawing on July 10th will feature a windfall worth $55 million. On top of all that, there are more than thirty $1 million prizes available. In other words, next Friday's prize pot is loaded with $85 million in cash.
Higher jackpot, same price
Despite the increased jackpot limit, the price for a LottoMax ticket will not be raised. That means players pay $5 for three lines. The LottoMax game made its debut back in 2009, and since then, 33 Canadians
collected a $50 million windfall
. So far, the $50 million cash prize has been up for grabs 83 times. It will not come as a surprise that LottoMax has become one of Canada's favorite lottery games.