Lottery player takes home $675,000 jackpot
14-03-2013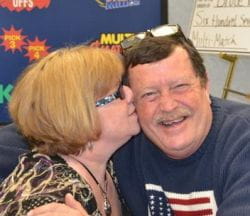 How about a $675,000 birthday present? Bruce Barnhard will turn 55 within a couple of weeks, and couldn't have asked for more than a
$675,000 jackpot
. The Middletown resident will receive $280,000 after taxes, which shrinks into insignificance compared to the
huge amount won by a Canadian lotto player
.
Hard to believe
The frequent lottery player took home the massive Multi-Match jackpot after all numbers on his ticket lined up. Barnhard was speechless when he realized he had won the jackpot. "I was yelling and screaming, and jumping up and down for joy," the lucky winner commented. At first, his spouse Eileen couldn't believe her ears as her husband tends to joke a lot.
Education, holiday, investments and beach house
The winner himself couldn't sleep well after realizing he had won the life changing jackpot. Barnhard will use the money to finance his daughters' college education. Additionally, he plans to pay off some debts. His spouse will also benefit from the cash prize as she will be able to invest some of the money. Barnhard revealed he would treat his wife to a fancy holiday, while also buying her a beach house.