Lottery lightning does strike twice
22-05-2014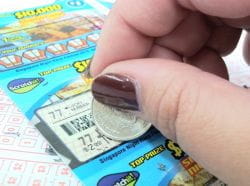 They say some people are born lucky. This certainly applies to a man from the city of Spokane, Washington. The fortunate lottery player in question, who has opted to remain anonymous right now, has bagged a
$200,000 cash prize
. About 3.5 years ago, the Spokane resident cashed $50,000 thanks to another winning scratch ticket.
Free spending money
The lottery player purchased the second
winning scratcher
at a local supermarket. "The first scratch card prize enabled me to pay off some debts. I can spend this latest win just the way I like", the Spokane man commented.
Possibly life-changing
The winner said he isn't sure what he will do with the jackpot, but he considers to buy a new home. Additionally, he plans to treat himself to a new car. "The
second jackpot
can add a positive boost to my life if I use it wisely", the scratch card player added.