Lottery dedication pays off
26-05-2011
Playing the lottery can sometimes be frustrating. A Thibodaux resident has been purchasing a lottery ticket for 20 years. After playing the lottery all those years she now has won a
jackpot
of $275,000.
Lottery
Tammy Guidry purchased a lotto and Powerball ticket at a local store. She cashed $3 on the Powerball ticket, the same amount that she had won several times in the past. Guidry couldn't believe her eyes when she checked the lottery ticket.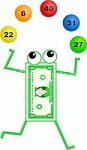 Jackpot
"I was completely shocked and I couldn't believe that I had matched all six numbers. I checked the lottery ticket over and over, after which I told my sister the news," Guidry commented. She will invest the jackpot cash in a new house. Guidry will cash $192,500 after paying all taxes.
Lucky ticket
The teacher from Thibodaux bought the lucky ticket at Gaubert Food Marts. The Lottery organization rewards the supermarket with a bonus worth $2,750 for selling the
lucky ticket
.