Lottery couple waits 7 months before collecting $50 million prize
23-07-2014
A Canadian couple has picked up a check for a
$50 million lottery jackpot
after waiting seven months. 47-year-old Andrea Groner and her husband Bill bought a couple of Lotto Max quick-pick tickets in late December last year. One of those tickets fetched the multimillion top prize.
Conscious choice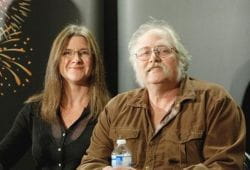 About one month ago, the Western Canada Lottery Corporation prompted ticket-holders to verify their entries. Andrea and Bill however, knew all along they had won the
life-changing jackpot
but decided to wait a few months before coming forward.
Lottery loyalty
It is the largest lottery jackpot ever won in Edmonton and the second largest in Alberta. The staggering lottery prize enables the couple to enjoy an early retirement. Despite the new fortune, Andrea and Bill have continued to play the lottery. The couple has not yet made plans for the windfall, but they hope it will
not change their daily routines
.