Lion's Share slot finally pays out at MGM Grand Las Vegas
25-08-2014
Some slot machines never seem to pay out big time. Lion's Share was one of those 'cold slot machines' at the MGM Grand Las Vegas. After twenty years however, it has finally come true with a
$2.4 million jackpot
. Walter and Linda Misco are the fortunate winners of the staggering windfall.
Long-awaited jackpot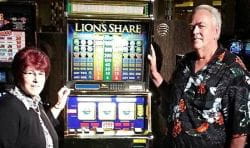 Market watchers considered the Lion's Share's jackpot as one of the most anticipated ones in Sin City. Many casino players tried to win the windfall, which had soared to $2.4 million over the last two decades. MGM Grand Las Vegas offers its visitors a whopping 1,900
slot machines
, but the Lion's Share is definitely the most popular one.
Legendary slot
"Statistics show that this slot was about five times more popular than our average machines. It seems that all casino players want to spin the reels of the Lion's Share slot. The game has become a legend among slot fans", a spokesperson for the
Las Vegas casino
noted.