Lady Luck smiles on unlucky man
08-06-2012
The Hollywood Casino Toledo has celebrated a winner who took home a jackpot worth $100,000. Martin 'Mike' Halka's life had been tough but his luck finally turned around as he cashed $100,000 at the Hollywood Casino Toledo.
Things got better
Halka never got to know his mother and lost his father 20 years ago. At one point, he was homeless and unemployed. There was also a family quarrel about his father's estate, which had an emotional impact. However, Halka managed to get his life back on track. Together, Halka and his wife have four children and he started his own company.
$1,400 at poker tables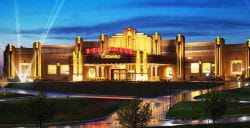 Things got even better thanks to his winning odyssey at the Hollywood Casino Toledo. Halka walked away with $127,000 in cash. He first banked $1,400 at the poker tables, after which he cashed $680 while spinning the $1 slot machines.
Winning streak
He continued his winning streak at a $10 slot machine and won $8,000 in cash. Halka decided to try a $25
slot machine
and scooped the $100,000 jackpot. He left the casino with $127,000 in cash thanks to his winning odyssey.
60 table games
The Hollywood Casino Toledo welcomes you to a world of glitter and glamour, packed with a huge number of gambling machines. Its extensive gaming repertoire features traditional slot games, in addition to video poker. Visitors can choose from more than 2,000 of the latest slot machines, 60 table games, and 20
live poker tables
.