Kicked out of casino after $10,500 blackjack win
24-02-2015
Things got out of hand at a casino in Chandler (Arizona) after a blackjack player tried to claim his winnings. The fortunate casino patron in question, who did not wish to be named, had won
$10,500
at one of the blackjack tables inside Wild Horse Pass Casino.
No passport, no winnings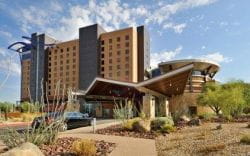 The casino alleged that the blackjack winner wasn't able to identify himself. At the same time, the Valley resident claimed he had his passport. The next day he tried to claim his winnings again, and casino staff told they were still processing the payout. They offered him some
free drinks
.
Casino patron injured
The
blackjack
player confessed he was a bit drunk, when several staff members grabbed him. He didn't understand why they escorted him out of the casino as he wasn't bothering anybody. The casino patron alleged that he suffered a shoulder injury in the incident.
Never again
A spokesperson for Wild Horse Pass Casino refuted the man's reading, and she noted that the drunk gambler was causing problems. In the meantime, the man has received his
blackjack winnings
. Nevertheless, he isn't planning to return to the Chandler gambling establishment. "One thing's for sure, I will never visit that casino again."