Kearny shop sells $19 million lottery ticket
03-08-2013
A Dollar Subs store in Kearny, New Jersey has sold a winning lottery ticket
worth a whopping $19 million
. The fortunate player in question has become an instant multi-millionaire thanks to the winning Mega Millions lottery ticket.
Life-changing jackpot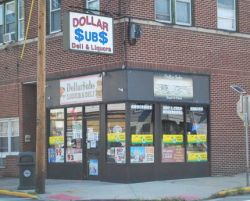 "It's really exciting that one of our customers has bought a $19 million ticket. We hope that the staggering cash prize will change his/ her life for the better," a shop attendant commented. The winner holds a ticket featuring the numbers 4-22-23-27-38, and Mega Ball number, 42.
Generosity
The store clerk noted that the lucky player has not come forward yet. "Hopefully, the
lottery winner
is a generous person as there's too much greediness nowadays. I would certainly donate some cash to charities," the Dollar Subs shop worker said.
Don't forget me
"I wish all clients who buy lottery tickets best of luck and tell them to remember me. Frankly, I have never purchased a lottery ticket. Now it seems rather tempting to buy one, after selling a multi-million ticket. Perhaps I will start playing the lottery now," she added.