Karma-inspired scratch card hits $240,000 jackpot
24-07-2015
A life insurance consultant was excited when he received his first bonus in the form of a $2.40 scratcher. That excitement was followed by happiness as the ticket hit a
$240,000 jackpot
. Lewis Gill had started working at Lifesearch Limited only three months ago.
Spiritual bonus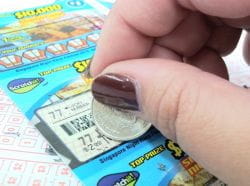 The 22-year-old received the bonus after he had done an excellent job with one of the company's clients. However, it appears that the scratcher was more than just a reward for his performance at work as the bonus had also some kind of spiritual twist.
Good deeds on the bus
Gill had
kicked off the day rather positively
, which inspired him to do some good deeds. While traveling to work he assisted someone with his luggage, and he allowed an elderly woman to take his seat. The life insurance adviser also permitted other passengers behind him in a queue to go first.
Positive vibes pay off
At work Gill suggested that his good deeds could result in a nice reward, referring to the concept of karma. His co-workers reminded him that you can control karma. That same day however, the
winning scratcher
demonstrated the opposite. The 22-year-old continued to pass on his positivity as he offered his boss half of the winnings, which he refused.