Jackpot loser suggests lottery winners to emigrate
19-01-2016
A multimillion jackpot does not always guarantee a happy life. Ask Michael Carroll, who
blew away his £9.7 million lotto fortune on drugs and hookers
. His experiences are priceless for other lotto millionaires, who can certainly learn from his mistakes.
Travel plans instead of hookers and drugs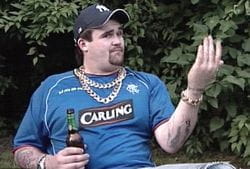 Carroll suggests Carol and David Martin to start a new life Down Under. The British couple scooped a £33 million cash prize thanks to a
winning lottery ticket
. They plan to use the cash for a first-class flight to Australia, where their 26-year-old daughter lives. That seems much better than spending the £33 million lottery cash on cocaine and prostitutes.
Anonymous life Down Under
"A new start Down Under would definitely be a great option considering the fact that their daughter already lives there. In Australia they would be able to enjoy an anonymous life without being bothered by people who want to get a piece of their fortune. I was
flooded with begging letters
, including from people who I had never met", Carroll said.
No regrets
The 32-year-old ex-garbage man was only 19 when he collected his £9.7 million jackpot. Carroll
frittered all the money due to his extravagant lifestyle
. However, he would do it all over as he doesn't feel sorry about the way he blew away the money. Carroll shared his fortune with relatives and friends, but those who didn't receive any cash felt offended. Carol and David can draw lessons from Carroll's story.