IT manager scoops $3.25 million lottery jackpot
16-10-2011
Commerce Shell Fast N Fresh in Bloomington (Illinois) has sold a lottery ticket that rewarded a $3.25 million jackpot. IT manager Tim Morris took home the jackpot after the drawing on September 21. Morris works at the Pantagraph; the daily newspaper from Bloomington.
Parents' birthdates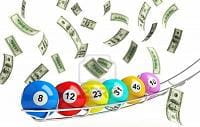 The Pantagraph employee used his parents' birthdates to create the winning combination. Morris (51) from Bloomington has been playing with that combination since 1978. He uses his children's birthdates as another combination in the lottery. "My parents were extremely happy. Actually, we all are thrilled to win this staggering cash prize," Morris stated.
It must me be a mistake
Morris informed his family and a few friends about the lottery jackpot. He first notified his spouse, who was working in the kitchen, about the staggering cash prize. "Sweetheart, please sit down, I have some interesting news," he told his spouse. He showed her the winning ticket and the newspaper. "No, this can't be true, it must be a mistake," she reacted.
$1.4 million
They have opted for a single payment of $2,375,000. The couple will receive approximately
$1.4 million
after paying federal and state taxes. Tim and Arlene Morris plan to invest the money in the education of their children, while also paying off the mortgage. "We strive to continue our normal daily lives," Morris noted.