Irish lottery group collects €3.9 million jackpot
18-10-2013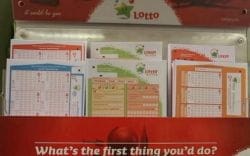 The Irish lotto mystery has only been solved partly after a Dublin group has stepped forward to collect their cash prize. However, there's no further information available on the winning syndicate from Dublin. The winners have opted to remain anonymous right now. It concerns a
€3.9 million lottery jackpot
.
First big win
A spokesperson for the Irish National Lottery confirmed that a Decie's Mini Market branch in Ballyfermot (West Dublin) sold the
lucky lotto ticket
. The syndicate bought the winning ticket at the start of this month. It's the first time that a lotto ticket purchased at the Decie's Mini Market store rewards a jackpot of this magnitude.
Dreams becomes reality
An unidentified person speaking on behalf of the lottery group, told reporters how the members reacted after learning about their new fortune. "We are
still in a daze
due to the life-changing lotto win. Like all lottery players, we have always dreamed about taking home a massive cash prize," the spokesperson stated.