Instant millionaire after 15 years of slot persistence
30-07-2015
Fifteen years of persistence has finally paid off for a woman from the city of Vista (California). Radenka crammed her wallet with a whopping
$1,069.443
thanks to one of the slot machines at the Valley View Casino & Hotel.
Creepy moment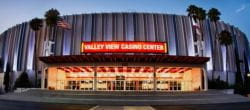 The fortunate gambling enthusiast was playing the Gold & Dragon slot when she struck oil. Radenka cashed out after
winning more than $1 million
from an original wager of $4 on the one-armed bandit. "It was a bit scary as people around me started making a lot of noise", the Vista resident commented.
Hard to believe
Her largest payout prior to the dazzling jackpot win was a 'modest' $4k.
The fortunate slot player
informed her partner and relatives about the massive windfall, but they thought she was joking. Radenka has received a symbolic check that represents the $1,069.443 jackpot.
No extravagant plans
She has no immediate plans for the windfall, but hopes it will change her life for the better. However, Radenka noted that she will use some of the cash to set up a
college fund for her kids
, while she plans to continue working. Almost needless to say that Radenka will try to collect more jackpots at the Valley Center-based gambling venue.