Incredible gambling wins: tragedy after cashing $34 million
01-08-2015
Winning a staggering jackpot doesn't necessarily guarantee happiness. Cynthia Jay certainly found out that even a
$34 million windfall
can't make up for losing your vitality. A fatal car accident caused an extremely rude awakening for the ex-casino waitress.
Marriage after staggering jackpot win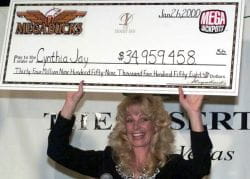 Jay was playing one of the hugely popular
Megabucks slots
when she hit the jackpot. The ninth spin turned out to be extremely rewarding as it resulted in a $34,959,458 bonanza. Two weeks after that dazzling win, Jay and her partner tied the knot. So far so good, you may think.
Luck turned to tragedy
Less than two months after the marriage, Jay's luck had turned. A drunk criminal crashed her car, leaving the jackpot winner almost entirely paralyzed. Her sister didn't survive the
fatal accident
. The newlyweds had planned lots of traveling, but Jay had become an invalid and completely dependent on the help of others. The perpetrator, Clark Morse, was sentenced to a 28-year prison term.