Incredible gambling wins: $40 million winning streak in Vegas
03-10-2015
Archie Karas is definitely one of the world's most legendary gamblers. He did what so many gambling enthusiasts dream of: winning big time in Las Vegas! Karas enjoyed a winning streak that netted him a stunning
$50 million in cash
.
Rewarding loan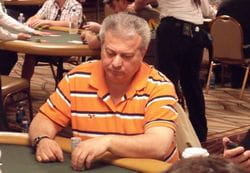 Before he visited Sin City, Karas had lost $2 million during a game of poker in Los Angeles. With only $50 in his pockets, the Greek American high-roller decided to try his luck in
Las Vegas
. It all started at the Binion's Horseshoe casino, where one of his buddies lent him ten big ones. Karas turned that loan into a massive payout whilst playing poker.
Lucky bastard
The next three years, lady lucky remained on his side. The legendary gambler collected $40 million in winnings between 1992 and 1995. One of his biggest payouts came from playing seven-card stud against the world's leading poker players. Eventually, Karas' luck came to an end and he blew it all. Less than a month later however, the
high-stakes gambler
turned a $40,000 loan into a
$1 million payout
. Karas seems to born for good luck, given all his winning streaks.