Impulsive decision results in $60 million cash prize
11-07-2012
A self-employed contractor has won $60 million thanks to a winning lottery ticket. Seymour resident Noel Peel has claimed the life-changing jackpot at the Rocky Hill-based Lottery office. All numbers on Peel's ticket Peel lined up, rewarding him a whopping $60 million.
Impulsive decision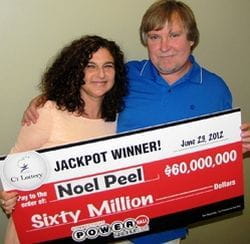 "We are very grateful to win the lottery jackpot. But our wonderful family doesn't really need the money to be happy," the jackpot winner commented. He revealed that he doesn't play the lottery very often. Peel stopped at the restaurant to buy his daily breakfast when he saw the lottery terminal. The 47-year-old Seymour resident impulsively decided to purchase a couple of Mega Millions tickets, in addition to some Powerball tickets.
Unbelievable experience
Peel left the tickets in his truck and a couple of days later he scanned the tickets. The self-employed contractor was speechless when he found out that he had won the staggering jackpot. "It really sank in when we claimed the jackpot at the lottery office. It was an unbelievable experience," Peel noted.
$457,591.50 jackpot
Another
lottery player
took home a minor jackpot after yesterday's drawing. All numbers of the Cash 5 ticket lined up, resulting in a jackpot worth $457,591.50. The winner has yet to come forward, while the store that sold the winning ticket has been rewarded a $500 bonus. The winner has 12 months to claim the jackpot.