Impulse purchase awards $20 million lottery jackpot
10-07-2013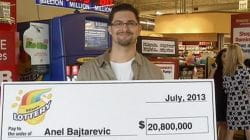 The llinois Lottery has produced another millionaire after Anel Bajtarevic took home a
$20 million jackpot
. Bajtarevic will receive a weekly payment of $20,000 over a 20-year period. It is the largest cash prize thanks to an instant game in the history of the llinois Lottery.
Rewarding impulse purchase
The 26-year-old Chicago resident wasn't planning to buy a lottery ticket, but purchased one impulsively. Bajtarevic decided to try a self-service terminal where he bought a 20-20 instant ticket. He will certainly not regret the impulsive purchase as he has become an
instant millionaire
thanks to the ticket.
Financial support
Bajtarevic has Bosnian roots as both his parents are from the southeastern European country. The jackpot winner revealed that he would use the money to support his family financially. Additionally, Bajtarevic plans to treat his parents to a holiday. The Chicago resident will also purchase his own home, while also
giving money to a good cause
.