Ignoring advice results in $5 million jackpot
21-05-2015
A woman from Sharon Springs (New York) has proven that wisdom may not always be right. Despite scratching off a lottery ticket with the coin tails-up, Audrey Waltimyer
crammed her wallet with $5 million in cash
. That's what we call 'cocking a snook at a saying'.
Double check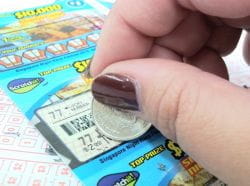 The 66-year-old woman purchased the
'Win for Life' scratcher
at a Cobleskill-based retailer. Waltimyer first asked her husband to check the ticket, after which she took it to a lottery ticket checker.
Volunteering during retirement
In the meantime, she has decided to take the cash value of the annuity prize and will receive a one-time payment of $2,757,036 after taxes. The
Sharon Springs
resident will quit her job, but she plans to work on a voluntary basis for an environmental organization.
Advice ignored
Prior to buying the scratch cards, a co-working had noted that scratching off with a penny tails-up would bring bad luck. Waltimyer successfully disproved that 'wisdom' after
scooping a $5 million jackpot
. The 66-year-old gambling enthusiast has not told her colleague that she ignored his advice. Waltimyer added that her son would also benefit from the lottery bonanza.