Gambling tattoos: Underarm hits slot jackpot
07-05-2016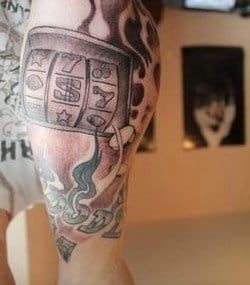 A jackpot win is definitely reason enough for an immortalization, such as a tattoo. We are not sure if the gambler in question actually won a jackpot, but his inked masterpiece points in that direction. One thing's for sure, the
gambling-themed tattoo is a successful creation
themed around his beloved pastime.
XL tattoo on fire
If we take a closer look at the tattoo, it becomes clear that the slot machine is surrounded by flames. That could mean that the gambler is both literally and figuratively 'on fire'. The gambling machine is spilling out coins, which suggests that someone has won the jackpot. Additionally, there is some kind of word at the bottom, but we have no idea what it says. The size of the tattoo adds up to its
impressive appearance
.
Slot themed around millionaires
Speaking of slot jackpots, ever heard of Cashville? This popular title is themed around a fictitious village packed with millionaires. For that reason, the symbols on the reels represent their luxurious lifestyle, including cigars, piles of cash, expensive jewelry and gold bars. Gun-Marie from Sweden is definitely a big fan of the Cashville title after she
collected a whopping $126,482
whilst spinning the reels of the millionaires-themed slot.