Gambling tattoos: Life-changing jackpot immortalized
07-11-2015
Meet Wayne Hughes, a Welshman who
landed a £1,117,779 lottery jackpot
more than five years ago. He celebrated the massive win with a tattoo themed around the date and lucky numbers on his ticket. The masterpiece is a cool memory of an event that clearly changed his life forever.
Rewarding combination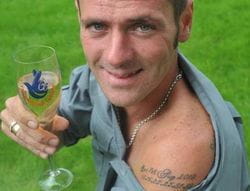 It all happened on August 7, 2010 when all numbers on Hughes' lottery ticket lined up, which netted him a whopping £1,117,779. The fortunate Welshman noted that the winning numbers, 13, 16, 22, 25, 31 and 39, plus bonus ball 7, were a mix of
multiple birthdates of family and friends.
Worth a sleepless night
His mother verified the numbers and discovered that her son
had become a millionaire
. Hughes immediately went home to check the ticket again. The Holyhead resident had to wait until the next day to call the lottery as it was already too late. Hughes obviously suffered a sleepless night, but it was definitely worth it. His tattoo will always remind him of the moment that turned his world upside down.