Gambler cashes $1.5 million thanks to penny slot
03-07-2013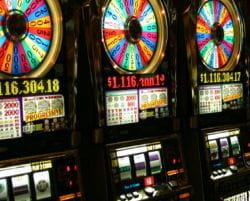 A retired man from Woodville, Alabama has become significantly richer after spinning the reels of an one-armed bandit. Charles Rhodes was playing a Wheel of Fortune Super Spin slot machine at the Hard Rock Hotel and Casino when he hit the
progressive jackpot worth $1,503,288
.
Progressive jackpot worth $14 million
At first, Rhodes couldn't believe what had happened but soon realized he had become an instant millionaire. Before this latest win, only two gamblers had scooped a multi-million dollar cash prize at the gambling resort in Biloxi. Hard Rock Hotel & Casino Biloxi offers punters a Wheel of Fortune
jackpot worth a whopping $14 million
.
Rewarding dimension
"My spouse loves to spin the reels of the
Wheel of Fortune
Super Spin slot. For that reason, we always have a go on it," the lucky winner commented. Rhodes was playing the Wheel of Fortune Super Spin slot nearly 10 minutes when he hit the life-changing jackpot. The fortunate gambler said that the cash prize would add a rewarding dimension to his retirement.