Gag gift results in $1 million lottery jackpot
26-03-2014
Nobody like to turn fifty, but it's not that bad if you receive a
$1 million birthday present
. That's exactly what happened to John Spotswood on his 50th birthday. The Oswego resident became an instant millionaire thanks to his sister.
Cheesecake and lottery tickets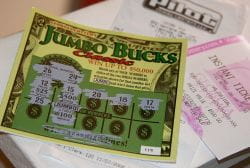 Initially, Spotswood considered the lottery ticket as a
playful item
. "I thought it was a gag gift or something like that", the 50-year-old commented. Besides the three scratch-off ticket, his sister also gave him a cheesecake. He enjoyed the cake and decided to check the tickets the next day.
Fake lottery ticket
The first lottery ticket resulted in a $25 cash prize, which was a pretty good start. Spotswood was shocked when he learned that the second one rewarded him with
$1 million in winnings
. However, he wasn't convinced and thought it was a fake lottery ticket. He became fully convinced after visiting a nearby lottery office.
Breakfast as a reward
Spotswood opted to take the prize in a lump sum, which after taxes came to
$555,912
. He isn't planning to quit his job despite winning the staggering cash prize. Spotswood will use the money to enjoy a nice holiday next year, while he has treated his sister to a breakfast.