Factory work despite multimillion jackpot win
05-11-2014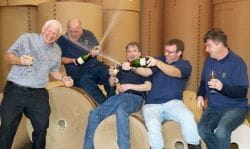 Meet David King, Gary Smith, Phillip Mellon, Peter Howard and Andrew Howard. These machine operators form part of a lotto syndicate that hit a
£2.9 million lotto jackpot
. Despite the massive win, the five men have no intentions to quit their jobs.
Not a good time to resign
David, Gary, Phillip, Peter and Andrew all work at John Hargreaves, a paper factory based in the town of Stalybridge. After the life-changing win, they have
returned to work
as if nothing has happened. The paper and cardboard manufacturer is struggling with a staff shortage, while the company is overloaded with orders.
Company loyalty
The
fortunate factory workers
feel it would not be fair to quit their jobs right now. Additionally, the solidary friends really enjoy their work. "I'm really happy for our five loyal employees who are really close. Needless to say that we really appreciate that they continue working at John Hargreaves Paper Mill", Nick Hargreaves, the company operations manager, commented.