Ex-convict dies broke after winning $27 million Powerball jackpot
04-12-2013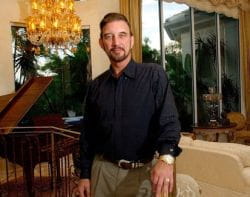 In 2001, ex-convict David Lee Edwards struck it rich with a $27 million lottery jackpot. Actually he shared a
$280 million Powerball jackpot
with three other players. Edwards chose the cash option for his $41 million, which was worth $27 million after taxes. He has passed away broke at the age of 58.
Broke and lonely despite lottery jackpot
After collecting the multi-million dollar cash prize, Edwards and his spouse Shawna splashed out on luxury cars, a private jet, and a
$1.6 million villa
. He became addicted to drugs, and the couple went bankrupt only five years after winning the lottery jackpot. Edwards was left alone after the couple divorced.
Hard life
Before winning the
Powerball jackpot
, Edwards was sentenced to jail after an armed robbery. He never managed to get his life on track and he was jobless after spending many years behind bars. The 58-year-old ex-convict not only blew through a $27 million Powerball windfall, he was also deeply in debt. Edwards was forced to borrow money to pay his water bill. Once a gambler, always a gambler as he also used the borrowed money to purchase some lottery tickets.