Ex-con claims $265 million lottery jackpot
25-02-2015
Every cloud has a silver lining, which definitely applies to Jesus Davila Jr. The 70-year-old Naperville resident spent eleven years behind bars, but has now become a multimillionaire. Davila bagged a
$265 million cash prize
thanks to a winning Quick Pick lottery ticket.
Lawn mower instead of extravagance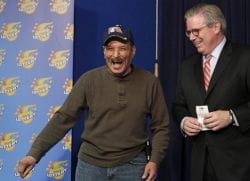 Davila purchased the lucky entry at a Glendale Heights-based convenience store last month. He plans to donate some money to good causes, while his family will also benefit from the
staggering lottery windfall
. While most jackpot winners splash out on new cars, luxury holidays, or a new house, Davila plans to buy a lawn mower.
$178 million lump sum
In 1994, the 70-year-old
lottery winner
was ordered to a 25-year prison sentence after pleading guilty to multiple charges, including drug-related charges. Davila decided to take the cash value of the annuity prize and will receive a one-time payment of $178 million. The Illinois Lottery will award the retailer a selling bonus check for $500,000.