Everton FC fan celebrates 30th birthday with 2 cash prizes
04-04-2013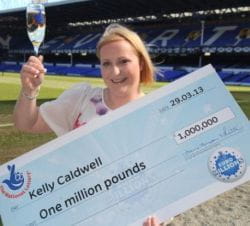 An Everton FC fan has become an instant millionaire after scooping a
£1million EuroMillions jackpot
. Luck was on her side as Kelly Caldwell won £700 at
bingo
only a few hours before hitting the lottery jackpot.
Rewarding decision
The 29-year-old flight attendant normally purchases five EuroMillions lines. This time she decided to buy ten lines, which turned out to be a good decision.
No easyJet flight this time
Caldwell will treat herself to a first-class flight to Egypt, where she will enjoy her birthday party. "I don't think I will choose easyJet this time. It will be a pleasant experience to fly first class, for once. I'm planning to order some drinks to kick off the birthday festivities," Caldwell commented.
Time to move out
It doesn't come as a surprise that the 29-year-old
Everton
fan told her boyfriend at Goodison Park about the staggering lottery jackpot. They both like their jobs and will continue to work. Caldwell will also use the money to buy a house as she still lives with her mother. They also plan to treat themselves to a new car, while their relatives will be enjoying a nice holiday.