EuroMillions jackpot winners step forward after two months
31-05-2012
A couple from Aspley, Nottingham has claimed their £1 million lottery prize after they forgot to check their ticket. Alan and Kim Elliott purchased the ticket for the raffle on March 23. They forgot all about the lottery draw and checked the numbers only last week.
Winning ticket stuck on fridge
"Me and my co-workers were discussing how we would spend the lottery jackpot if we would win it. At that moment I didn't realize that a winning lottery ticket worth £1 million was stuck on our fridge," Alan Elliott noted.
Chinese food and bubbly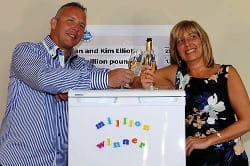 Alan and Kim treated themselves to bubbly and
Chinese
food after they realized they had won the jackpot. The Aspley residents still have to decide how to spend the lottery jackpot. However, Alan Elliott plans to buy a new car, while also playing golf more often.
Jackpot winners
This latest win represents the fourth one in Nottinghamshire so far this year. Jim and Maureen Emerton took home £4,449,039 in cash only two months ago. Additionally, a Mansfield couple scooped a £40,627,241 prize in January. Another duo banked £45,160,170.50 in early February.
Impulse purchase
A gay couple took home £1million in cash courtesy of the EuroMillions
lottery
only a few days ago. Ian Pearce (45) and Lyn Sexton (41) purchased the winning ticket spontaneously before heading to West Wales. "It's true what they say about the sensation after winning a massive cash prize. It's really surrealistic. We already live comfortably and we have been able to travel a lot," Lyn Sexton commented.