English online gambler hits £13.2 million slot jackpot
12-10-2015
A gambling enthusiast from Crewe (Cheshire) was spinning the reels of the Mega Moolah slot when he struck oil. Meet Jon Heywood, an extremely fortunate soldier who has become an millionaire after
scooping a £13.2 million progressive jackpot
at an online casino.
New record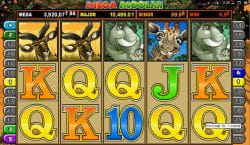 Online gamblers love to play the Mega Moolah slot as it comes with four progressive jackpots. Heywood landed the biggest one, netting him a whopping £13.2 million in cash. It is the largest jackpot ever won on an
online slot game
. In 2013, another fortunate online casino player took home the same amount thanks to the Mega Fortune slot.
Life-changing event
"I am still in a complete state of shock at my good fortune. It's absolutely amazing, and I'm still in disbelief", the
fortunate online casino player
commented. Heywood plans to use the money to finance his father's medical treatment. "He means everything to me, and I will make sure he gets what he deserves."
Rewarding online slots
A spokesperson for the online casino in question expressed their happiness for the winner. "We are proud that one of our players has won the largest payout ever in the world of online gambling." The Mega Moolah slot comes from the popular Microgaming stable, and it's also available at
Royal Panda
.