English bus driver bags £1.8 million lotto windfall
03-02-2015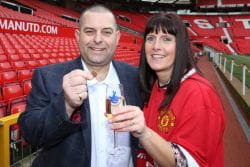 There are lots of good luck charms that allegedly bring good luck, such as four-leaf clovers, a rabbit's foot, horseshoes, wishbones, etc. However, for a 48-year-old Ashton-under-Lyne resident a coin has become his
favorite lucky charm
.
Rewarding sign of good luck
Sean Lloyd found a coin outside the store which he visited to purchase a
lotto ticket
. The Britton considered the coin as a sign of good luck. It turned out to be an extremely lucky charm as the lotto ticket hit a
£1.8 million jackpot
. Lloyd has quit his job after striking oil with the lotto windfall.
No worries about wedding bill
The
former bus driver
verified his ticket just before going to bed. "I noticed that five numbers on my ticket matched the numbers of the balls drawn on that date. The first thing that came to my mind was my daughter's wedding, which I plan to fund with the lotto winnings", Lloyd commented.