English bingo senior surprised after cashing £66,508
09-09-2013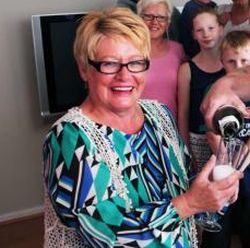 How would you react if you had won almost £67,000 instead of £120? You would probably be shocked and excited at the same time. Well, that's exactly how Alison Bradbury felt after she learned about her staggering jackpot. The 60-year-old decided to enjoy an online bingo session as she had a hard time falling asleep.
£66,508 jackpot instead of £120
The next day, a customer service representative called the granny from Castle Eden, County Durham, to confirm the jackpot. "At first I thought there was something wrong with my account, but she told me I had won
£66,508 in cash
! I decided to call my daughter as I was concerned about my heart after having a triple heart bypass a few years ago," Bradbury commented.
40th birthday party
Her partner Ken will also benefit from the
online bingo
jackpot as he may enjoy early retirement. "My husband planned to retire in about one year, but now he can quit his job earlier. I'm pleased to spend more time with Ken." Bradbury intends to put away most of the winnings. The 60-year-old Castle Eden resident will first treat her daughter, who will turn 40 soon, to a nice birthday party.