English bingo parlor celebrates £252,000 jackpot winner
31-03-2016
The death of a loved one is devastating, but if two of them pass away words fail to describe such tragedies. Yvonne Verlander lost both her mother and sister this year, and a massive gambling win is obviously a cold comfort. However, we hope that the
£252,000 bingo jackpot
provides at least a little support.
Persuade paid off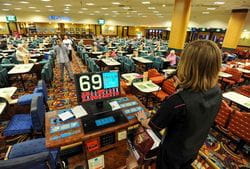 Verlander wasn't excited when a friend asked her to visit a bingo venue, but eventually she agreed to go. It turned out to be a good decision as the 59-year-old gambling enthusiast crammed her wallet with a stunning £252,000 in cash courtesy of a National Bingo jackpot. Verlander plans to use the winnings to enjoy a
well-deserved holiday
.
Toilet visit to remember
The grandmother of 10 bagged the staggering jackpot after collecting a full house, while her star number also lined up. Verlander was in the lavatory when her
bingo jackpot
was confirmed. "At first I thought it was a joke, but I realized it wasn't as people started hugging me when I entered the bingo floor", the 59-year-old woman told. Verlander has been visiting the bingo parlor for more than two decades.