Drug store colleagues fight over $50 million lottery jackpot
04-12-2014
A Canadian drug store worker is suing a coworker who is allegedly hiding a winning lottery entry. It concerns a
$50 million jackpot
, which has not been claimed up till now. Gayleen Elliott has filed a lawsuit against her colleague Dalbir Sidhu.
No evidence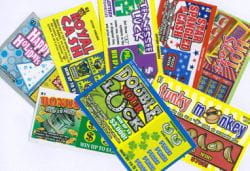 Sidhu would purchase several tickets on behalf of the workplace lottery group. However, he claimed he had failed to buy them as a result of a
family issue
. Sidhu has declined to make a statement, while Elliott has not been able to provide any evidence that her colleague really bought the tickets.
Speculation is mounting
The $50 million lottery ticket has caused a great buzz around the town. Local media report that the
mystery winner
is missing out approximately $2,500 a day in interest. The winning ticket features the numbers 3, 4, 5, 7, 31, 33, 40, in addition to bonus number 49. In the meantime, it's been nine months since the March drawing, sparking speculation about who has it and why they're keeping it under wraps.