Douglas County resident scoops $1 million slot prize
23-10-2014
Bill Paxson was spinning the reels of a Wheel of Fortune slot when he landed a life-changing jackpot. The 69-year-old gambler left the Casino Fandango with a
whopping $1,037,644.93
in his pockets. It's the largest payout in the history of the Carson City-based gambling venue.
Almost a millionaire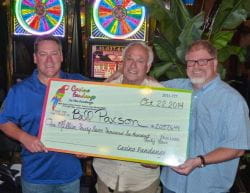 Bill Paxson cashed out after winning a staggering $1,037,644.93 from an original wager of $20 on the
Wheel of Fortune slot
. The Douglas County resident stated that he could not believe it and was still in shock given the large size of the payout. Paxson was close to becoming a millionaire, but after paying taxes the prize will be far less than one million dollar.
Emotional thought
When asked what he plans to do with the seven-figure slot jackpot Paxson revealed that he will use the money to
pay off the mortgage
. This means he will soon own the house, a scenario that he found to be emotion provoking. But first he will take some time to process the life-changing event at the Casino Fandango.