Double luck for Hamilton casino player
16-09-2014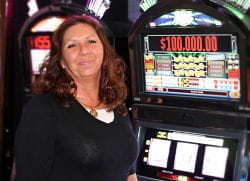 Some casino players seem to have lady luck always on their side. Kimberly Gabbard is one of those fortunate people after winning two jackpots at Miami Valley Gaming within a few days. First she won a F-150 pickup, followed by a
$100,040 slot jackpot
.
Insomnia thanks to casino truck
A spokesperson for the Monroe-based casino revealed that the truck was priced at $41,000. "It was unbelievable when I won the new truck. I was
completely speechless
, and that night I didn't sleep a wink due to the sensation of winning such an amazing prize", Gabbard commented.
Double luck
A few days later, the Hamilton resident decided to spin the reels of an Old School Cash Wheel
slot machine
. It turned out to be a rewarding choice as she scooped a $100,040 payout. "We celebrate jackpot winners almost every day, but winning a $41,000 truck and a $100,040 jackpot within a couple of days is definitely something special", the spokesperson added.